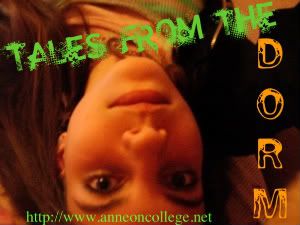 As time allows and as the muse strikes, my lovely and talented daughter Megan will share her experiences on life as a freshman in college.
Day 1 of college classes:
**worst experience:
Standing in the long line waiting to get lunch at Wendy's.
Never eat lunch at lunch time. Everyone still tries to eat every meal possible around the right time so eating right at noon is not the best thing to be doing... but if you're hungry then be prepared to wait forever! No lies here.
**best experience:
Playing football in the dark with a bunch of people I had just met the day before.
College isn't just about studying and being cooped up in a dorm room all day. You still need time to play with your friends and just be a kid. So what if you're 18. This doesn't mean that you have to do boring adult stuff yet. So grab a bunch of friends and go play a game outside. It's good for you!
Day 2:
**worst experience:
Going to math class and figuring out that your notes that you had just recently printed out for that class were missing the equations needed.
Always make sure that you have all necessary materials before you come to class. This also means making sure all of your notes print out right BEFORE you print them. I learned the hard way and wasted 20 sheets of paper. I'm still not too happy about that.
**best experience:
Going out to dinner with friends.
It's no fun to eat dinner alone so what my friends and I try to do is get together every night and eat dinner together. You need the break from homework and all the college stress so just go out and enjoy yourself. Now this doesn't mean go out all night and not do your homework. It just simply means take a short break (depending on the work load) and come back to it later. Homework is a must. You can also do what I try to do and finish your homework in between classes so you don't have to worry about it later.
Day 3:
**worst experience:
Not being able to sing Do Re Mi backwards in front of the whole class on the 2nd day.
It happens... you get called on and you can't perform the task given to you. Thankfully it was only the 2nd day of class and I wasn't the only one who messed up. I just took it as a learning opportunity. (Now I know I need to work on being able to sing Do Re Mi in descending order)
**best experience:
Being able to read and work on homework while sitting outside. (Without being looked at like a freak)
The great thing about college is the fact that the students that attend are paying to learn therefore they want to learn and get their work done. (Well most of them that is)